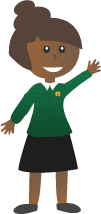 Y2 LAND AHOY: PIRATE ROY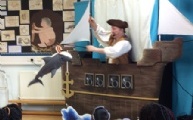 PIRATE ROY VISITS ST JAMES
Year 2 had one of their most exciting visitors last week: Pirate Roy
The children were full of excited questions and ideas and were just a tiny bit scared, when the shark ate the treasure.
They learned a wealth of pirate facts and built their vocabulary to include words like pistol, cutlass, dubloons and pieces of eight.
The children were hugely attentive and engaged and by the end were almost on Pirate Roy's ship.
We are already seeing enthusiastic pieces of rather superb, language-rich writing as a result of Pirate Roy's visit