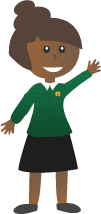 **IMPORTANT INFORMATION - PLEASE CLICK**
Please find below important information regarding the latest procedures in place for returning to school.
Breakfast Club - Currently we will not be running a Breakfast Club. If you would like to register for a place, please phone the school on 0121 523 5861 between 8am - 4pm. Thank you

Dinner Money - The school office will not be handling any cash, so any dinner money needs to be placed in an envelope clearly labelled with the child's name, class and amount enclosed. Please place sealed envelope into the cash box located on the wall to the left of office window. Change will not be given, and any extra money will be carried forward.

Lunchtime Arrangements - Lunchtimes will be staggered in order to accommodate more children in school whilst adhering to social distancing guidelines. School dinners will be available or children can bring a packed lunch. There will be a limited, but nutritionally balanced choice.
Due to the increased number of children, two year groups will need to have grab bags/packed lunches which they will need to eat in their classrooms. For the first half term Year 4 & 6 will have grab bags, so if you would prefer you can send them to school with a packed lunch. For the second half of the term, year 3 & 5 will have grab bags.