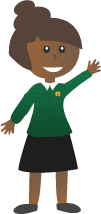 Admissions
St. James C.E. Primary School, Handsworth
Admissions Policy
Our School Admissions process is part of the Local Authority co-ordinated scheme. All applications must be submitted to the Local Authority Applicants must apply to the Local Authority in the autumn term before the year of admission. The school's admission number is 30 per class. Where the number of applications is lower than the school's admission number, all applicants will be admitted. If there are more applications than places available, then all applications received by the Local Authority's designated closing date for receipt of applications will be considered, together and at one time, by a committee of the Governing Board's Admissions Committee. Oversubscription criteria If the number of applications for a particular year group exceeds the number of places available, each application will be given a priority and places will be allocated in the following order:
Looked after children or previously looked after children. From September 2021, (conditional on the Admissions Code 2021 receiving Parliamentary approval), this includes those children who appear to the admission authority to have been in state care outside of England and ceased to be in state care as a result of being adopted (Internationally Adopted or Previously Looked After Children - IAPLAC).
Siblings (brother or sister who will still be in attendance at the time of the child joining our school).
Children whose parents have applied to the school on denominational grounds; Anybody whose parent/guardian regularly attends St James Church, Handsworth regularly meaning once a month for a twelve-month period and this will be confirmed by Mr Paul Capelin (St James PCC).
Children who live nearest to the school.