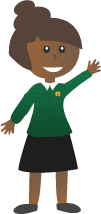 Aston Villa
Aston Villa STEM Workshop.
What a fantastic afternoon Year 5 had at Aston Villa STEM (Science, Technology, Engineering, Mathematics) workshop!
During the workshop the children went around four different activity stations where they took part in sporting activities, which were connected to STEM learning. At the end of the workshop, the children were given a challenge where they had to code a moving sphere to make 4 passes and then score a goal. This brought together all the children's learning as they had to pull upon their mathematics, science and technology knowledge.
One child said "I loved playing sport and learning about science, it was great."
Another child said, "It was great to be learning at Aston Villa and getting fit as well."