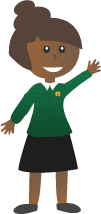 Computing
Computing at St James.
The new computing curriculum develops both skill and knowledge. This computing curriculum equips pupils to use computational thinking and creativity to understand and change the world. Computing has deep links with mathematics, science, design technology and PSHE and all these subjects are called upon to achieve within computing curriculum.
The new computing curriculum puts a clear emphasis on four main areas of learning:
Computer science (CS) – this covers how computers work and how to write algorithms and solve problems to eventually create a computer program. At St James the main program that teaches our children computer science is Espresso Coding. Through Espresso Coding children learn how to design and write programs that accomplish specific goals, including controlling or simulating physical systems.
Digital Literacy (DL) – through the teaching of digital literacy the children will have the ability to perform tasks effectively in a digital environment. The Literacy part means they will have the ability to read and interpret media, to reproduce data and images through digital manipulation, and to evaluate and apply new knowledge gained from digital environments.
Information Technology (IT) – this will be taught as part of Digital Literacy and in other subject areas. The children will be able to create programmes, systems and a range of content on the computer.
E-safety – this will be taught during the computing lessons but also through PSHE. The children will be exploring the different ways to stay safe on-line and the issues connected with cyber-bullying. If you would like to read more about e-safety and how to keep children safe at home, please click on this link http://www.stjamesce.bham.sch.uk/page/?title=Internet+Safety&pid=48 and you will be taken to our page on e-safety on the school website.
Here at St James the children will be taught computing as a subject area for 1 hour per week in the computing suite. They will also have the opportunities to use their computing skills and knowledge within class across a range of subjects. The children have access to PC's, Laptops and I-Pads to support and extend their learning