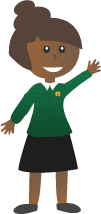 Curriculum
At St James children receive an ambitious, broad and balanced curriculum. This is underpinned by the National Curriculum and our Christian vision. We use the Cornerstones curriculum alongside our own topics. These have been written with our culturally diverse community and location in mind. As educators, we strive to enrich the lives of the children with engaging experiences. Children love our curriculum and are keen to learn more. Teachers then support them to remember more and therefore will accomplish more. The curriculum and school values work together to improve each child's understanding of themselves, their community and the world they live in. It also encourages them to flourish and realise their dreams. Children aim to let their light shine, build ambition and become successful citizens.
Please browse the curriculum pages to gain an insight into the ambitious opportunities we are giving the children through our curriculum. These opportunities to build up knowledge, skills and values as well as improving vocabulary are woven through our topics.
If you have question about any part of the curriculum, please contact Mrs Matthews at r.matthews@stjamesce.bham.sch.uk or on 0121 523 5861.