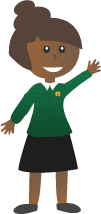 EYFS
Our trip to Dodford Farm
Reception went to Dodford Farm as part of our Big Wide World topic. Before the trip, the children did lots of learning about farms; they learnt the names of baby animals and thought about what animals give us. We also discussed the role of a farmer.
Wearing their wellies and raincoats, children were very excited to go on their first trip and looked forward to the travelling on the coach. We sang Old MacDonald on our way to Dodford Farm, thinking about the different animals we would see there. Once we arrived, we were greeted by sheep and donkeys; we were so excited to finally see the animals! Throughout the morning, children were able to feed all the animals and had the chance to stroke them. In the afternoon, we went on a Woodland walk around the farm. We looked at all the flowers and talked about the different parts of a plant.
After our trip, we wrote a recount of our day. We were able to write about all our learning We had lots of fun at Dodford Farm and want to go back again soon!