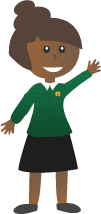 Enchanted Woodlands
Year one's trip to the Lickey Hills
As part of year ones Enchanted woodlands topic, year ones went on a trip to the Lickey Hills. The children explored the woodlands and were tasked with collecting different leaves, sticks and seeds.
A guide took the children on a tour around the woods where they were able to explore the area, walking across fallen down trees and through sticky mud.
The year group learnt lots of interesting new facts about trees including the difference between Evergreen and Deciduous trees. The class also discussed how plants and trees grow,
The class then entered the enchanted woodlands where they went on a magical fairy hunt. The children were left a magical letter from the fairies, where they were set the challenge to make fairy furniture from the twig and leave.
The children continued their learning back into the classroom by looking at size, colour, shapes and texture of the different leaves collected. The children used their knowledge to discuss whether each leaf came from a deciduous or evergreen tree.