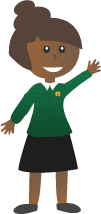 History
At St James, History fires the children's curiosity about the lives of people who lived in the past in Britain and around the world. We teach children a sense of chronology and through this they develop a sense of identity and a cultural understanding based on their historical heritage. They can learn to value their own and other people's cultures in modern multicultural Britain. History plays an essential part in preparing us for living and working in the contemporary world.
Teaching about how events in the past have influenced our lives today, can empower their own decisions about personal choices, attitudes and values. As the children see the diversity of human experience, they understand more about themselves as individuals.
In History, they will be taught to understand concepts such as continuity and change, cause and consequence, similarity and difference. These ideas will help the children to make connections, draw contrasts and frame their own historically-valid questions, including written narrative and mathematical problems. They will find evidence, consider it and reach their own conclusions, thus developing the skills of enquiry, analysis, interpretation and problem-solving.