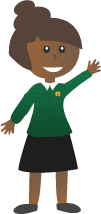 Literacy
We teach our children the knowledge and skills required to communicate effectively in writing, so that they can complete all the important writing tasks in their later lives. At the same time, we encourage them to develop a passion for writing that will allow them to move and influence their readers.
We teach them to plan, draft and review (re-draft) their writing with growing independence.
They learn to write across many different types of writing for many different audiences. We try to write for as many real audiences and reasons as possible.
Almost all of our children create super ideas to include in their writing and quickly learn how different types of writing work. Many of them find the specific rules of grammar, spelling and punctuation more difficult to master and so this is a key part of our teaching.
Who wants to become a writer? And why? Because it's the answer to everything. … It's the streaming reason for living. To note, to pin down, to build up, to create, to be astonished at nothing, to cherish the oddities, to let nothing go down the drain, to make something, to make a great flower out of life, even if it's a cactus." Enid Bagnold