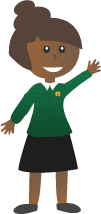 Mission, Ethos, Vision & Aims
Mission Statement
St James School is the gift of the Church of England to the local community providing an excellent education and pastoral care.
We are here to serve the children in our community; irrespective of their faiths, beliefs or needs.
We provide a caring, stimulating and life enhancing learning environment, where our children can grow in their sense of self-worth and go on to make a valuable contribution to society.
We develop our children's understanding and respect of one another, to develop the community of the future, from a secure grasp of where we are now.
The Anglican ethos at the heart of our school community
As a Church of England school serving our multi-faith community, we believe that we approach children's learning from a unique starting point, believing that each person is made in the image of God and therefore precious.
This means that we are accountable to our whole community and available to it. We do not negatively differentiate between pupils for any reason and we embrace diversity as a rich resource. We see the nurture of every child who wants to come to our school as our central role, whatever their needs.
Our starting point underpins our approach to inclusion and development of the 'whole child' through strong spiritual, moral, social and cultural strands within our curriculum. This involves our drive to enable our children to create and be part of the community of the future based on their knowledge, understanding and positive valuing of the backgrounds of their peers and other community members.
We are very clear that our parents and carers have chosen us, in part, because they share with us the value of our Christian ethos for the development and achievements of their children. We are proud to declare our faith-base as a school.
Our Christian character and message informs the life of our school and what it stands for. At the same time we remain aware of the wide community of people within our Church school. In this context of plurality it is very important to celebrate diversity and to value it.
Developed by Governing Body on 22nd January 2015
Vision
At St. James we take pride in serving our community in Handsworth, by providing an education of the highest quality.
We help our children to grow as people with strong values, building from Christian values and reflecting the values of the faiths of our children.
As a Church of England school in a multi-faith community, we help our children to develop an understanding of the meaning and significance of faith.
As members of the Family of St. James, our children will develop the key life skills. This will allow them to go on to create the communities of the future, where children know and understand one another's faiths and cultures, so that they learn to respect others and to live together in harmony.
At St. James we work together to build a happy school in which:
Children are happy because:

They feel welcome, safe and well cared for;
They feel challenged and supported in their learning;
They are excited by their learning opportunities and enjoy success in their learning.

Parents are happy because:

They feel that their children are well cared for;
They can see their children's successes in school;
They feel included in a partnership with school, which is benefiting their children.

Staff feel happy because:

They feel appreciated;
They recognise the achievements that they have helped our children to make;
They have a sense of being part of a successful team with a shared purpose.

The Community is happy because:

They feel proud of the school's successes;
See the levels of respect the children have for the local environment and all the members of the community.
Aims & Values
At St James Church of England Primary School, Handsworth we intend to
Provide a learning environment in which children can flourish because they are safe, secure, cared for, challenged, motivated, encouraged and independent.
Support children in developing high self-esteem, because they are highly valued and have many opportunities to achieve.
Provide equality of opportunity and access to the curriculum to all children.
Support the children to achieve the highest level of academic success through high expectations and personalised learning opportunities.
Prepare our children for life by nurturing their knowledge and skills and the ability to apply them.
Open our children's minds to a love of learning that will stay with them throughout their lives.
Provide an excellent curriculum, which provides a wide and varied range of learning experiences.
Nurture in our children the qualities of good citizenship: having a strong moral code, positive behaviour, self-respect and respect for others, the desire to make a valuable contribution to society and be safe from negative influences.
Develop a strong partnership with our parents and carers to bring about the best education for our children.
Understand and respect the cultures and faiths of Handsworth within our curriculum and participate fully in our local community and at the same time encourage awareness of life and issues around the world.
Help children to recognise the value of religious belief, including the implementation of the Birmingham Agreed Religious Education Syllabus, which was specifically designed to promote community cohesion.
Model and teach morality and spirituality based on Christian values, recognising that these values are shared with the religions of our community and incorporating teachings from them.