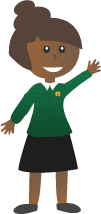 Overview
At St James children in Reception are taught using the Early Years Foundation Stage Framework (EYFS). We believe that it is a very important stage as it builds the foundations for future learning. Children learn through play (self-initiated activities) and adult led activities and progress is documented in their Learning Journeys.
Learning is primarily done through topics where our aim is to provide fun and exciting learning experiences, taught within stimulating and supportive environments – both indoor and outdoor, in which all children can thrive. We aim to develop a love of learning and skills of independence and enquiry, equipping children fully for the future.
Throughout Reception, children will learn skills, acquiring new knowledge and demonstrating their understanding through 7 areas of learning and development.
The areas are divided into 3 prime areas: Communication and Language, Physical Development and Personal, Social and Emotional Development which are essential for children's healthy development and future learning. As children grow these Prime areas will help them to develop skills in 4 specific areas: Literacy, Mathematics, Understanding the World and Expressive Arts and Design.
Alongside the 7 areas of learning and development the staff also develop the Characteristics of Effective Learning. The Characteristics of Effective Learning and the prime and specific Areas of Learning and Development are all interconnected. Through play, children develop fundamental Characteristics such as being willing to 'have a go', to keep trying and having their own ideas. The Characteristics of Effective learning underpin learning and development across all areas and support the children to remain effective and motivated learners.