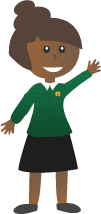 PLAYGROUND BUDDIES
Playground Buddies at St James
Our playground buddy scheme plays a vital role in creating a safe, welcoming, happy and peaceful atmosphere for children during lunchtimes.
Who are they?
Year 6 children take on the role of Playground Buddies. The buddies thoroughly enjoy completing all of their responsibilities, and not only do they make the playground a happy place for all the children, but also offer a great help to the staff on duty at lunchtime.
What does a playground buddy do?
all children to learn how to play cooperatively with each other.
Welcome new children into our school and help them to settle quickly.
Help children resolve minor conflicts.
Teach children to play a wider range of games.
Support lonely children in making more friends.
Be ready as a friend to all.
How do we spot them?
Our buddies wear bright yellow tabards. Look out for them around the playground.
The view of our playground buddies:
'Being a playground buddy is fun and exciting and you get to experience what other children like to do when they have a break from their class' Taliyah.
Since I have been a playground buddy, it has helped me to build up my own confidence by meeting new children around the school,' Teigra.
'Being a playground buddy is fun because you get the chance to learn all about children and make new friends. Also you get to help others make new friendships,' Aniyah.
'Being a playground buddy means I get to meet new children that have joined our school, get to know them and help them to make friends quickly,' Intisar.'
YOUR BUDDIES