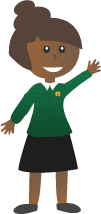 RE/Collective Worship
There are some extremely important festivals which are taking place over the coming weeks, which we would have celebrated in school, so here are some activities which we can all take part in at home to keep the celebrations a focus of our inclusive St James Family.
Remember to take lots of photos and send them into us via email at homelearning@stjamesce.bham.sch.uk
Collective Worship.
Write a prayer for the people who are suffering from the coronavirus.
Thankyou poster – poster to say thank you to the key workers/NHS.
Design your own rainbow with a message of support for Handsworth.
Share your own worship area from your house.
Reflect on not being able to come to school – think about:
-How does it make you feel?
-What are you missing the most?
-What are you most looking forward to when we return to school?
-Has it made you feel differently about education, family and the world?
Easter
Paint the story of Easter on stones.
Write an acrostic poem for Easter.
Make an Easter bonnet and take a photograph of your wearing it.
Design a stained glass window to retell the story of Easter.
Design an Easter card which depicts the true meaning of Easter.
Reflect on what these pictures mean to Easter and you?
Vaisakhi
Create a presentation about the festival of Vaisakhi (be as creative as you can!)
Rewrite the Vaisakhi story in your own words.
If you celebrate Vaisakhi keep a diary entry, which could include photographs, of how you celebrated this special festival.
Design a male and female outfit to be worn during the festival of Vaisakhi – think about the colours, design and symbols.
Write an acrostic poem for Vaisakhi.