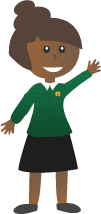 Religious Education (R.E)
In our school we believe that RE both supports and strengthens our aims in every aspect of school life. Our caring ethos and the value we place on the development of the whole child; spiritually, morally, socially, culturally and intellectually is reflected in the RE curriculum.
Our lessons focus on 1) Learning from Faiths and 2) Learning about Religious Traditions.
Our work on learning from faiths is based on resources from the religious traditions of our community and others, so that they gain a good degree of knowledge and understanding.
When learning about religious traditions they find out about religious practices, beliefs, sacred writings, important people, important events and experiences.
This helps our children to make informed decisions and develops their life skills. A vital outcome is that children begin to understand each other's backgrounds and learn to respect one another's religion and way of life. In this way we are helping to create a harmonious community for the future, which is built on mutual understanding and respect.

Birmingham Agreed Syllabus - RE in Birmingham.
Please click here to view this website.