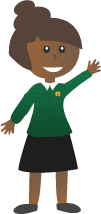 Remembrance Day
To celebrate Remembrance Day Class 1O performed a class assembly honouring this important day. The Children told the story of the 'Little Hen and the Great War'. A beautiful story of unexpected friendship in the midst of fighting and devastation.
Within our class assembly the children shared facts and information that they have learnt about Remembrance Day. The class learnt that Remembrance Day is held on the 11th of November - the 11th day of the 11th month of the year and that a two-minute silence is always held at 11am to remember the millions who have died at war.
The class discovered that Remembrance Day was first held in 1919, one year after World War I ended.
The children learnt that on Remembrance Day, people will lay wreaths of poppies on statues and monuments to remember all the soldiers who died for us. As a class we made our own Remembrance Day wreath and held our own two minutes silence.
As a class we learnt the poem In Flanders fields by John McCrae. Some of the children recited this poem within the class assembly.