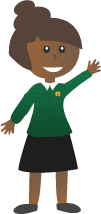 Scrumdiddlyumcious!!
YEAR 3 VISIT CADBURY WORLD
On Tuesday 26th February, year 3 visited Cadbury's World as an exciting introduction to their new topic, Scrumdiddlyumcious. The day started well, as the sun was shining and it was to be the hottest day ever recorded in February! The children started the visit, with an educational talk about the journey of the cacao bean and some interesting facts about how chocolate is manufactured at the factory. Next, was the 4D cinema experience which the children found hilarious! The visit continued with a tour around the factory, children were invited to temper the chocolate and have a go at writing their names in chocolate. They all enjoyed a sample of the yummy chocolate, followed by a ride on the Cadabra cars. The children's behaviour was brilliant from start to finish, well done year 3!