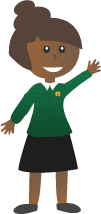 St James Houses
House System at St James
At St James C of E Primary School we operate a House System, which works in conjunction with the school's Behaviour Policy to further develop the promotion of positive behaviour within the school. Houses are essential, as they create community spirit and give the children an opportunity to contribute to something bigger. The system encourages pupils to become responsible citizens, successful learners, effective contributors to society and confident individuals. It also enhances their development of respect for each other and for their community.
All of the children and staff in Key Stage 2 are allocated a house which they will be in during their time at St James. Each house is named after a colour and has a positive value assigned to it.
Red - Hope
Blue - Harmony
Yellow - Wisdom
Orange - Dignity
Purple - Community
Green – Kindness
The children will have the chance to meet as a house in a house assembly which are planned throughout the year. Every year, each house also has the opportunity to learn about the life and work of inspirational people, focusing particularly on their qualities and the impact that they have had on the lives of others.
Year Sixes will be given the opportunity to nominate themselves as Captains or Vice-captains. Children who have nominated themselves will have to put themselves forward at a house assembly and a vote will be carried out to elect a Captain and Vice-captain. The Captains and Vice-captains will wear a badge to show their position in the school.
Pupils will work towards gaining house points each week through, demonstrating one of the house values, applying a growth mind set to their learning, good behaviour and attendance. The houses will also compete for points in a variety of inter-house competitions including singing competitions, quizzes, and sports events. House points will be collected with the winning house being announced in assembly each week.
St James House Cup
Each week our houses are competing to become house champions, by obtaining the most house points they can.
Who will win this Crowned House Champions!