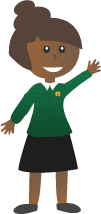 Vision & Values
Children are at the heart of our Christian motto – Let Your Light Shine Matthew 5:16

School Values
St James is a place where the school community is encouraged to grow together through our core school value of Love.
Let Your Light Shine
Opportunities for all
Value one another
Enriching Education
Leaders are driven through their chosen Christian Value; 'Let all that you do be done in love.' Corinthians 16 14.
They strive for every child to live life in all its fullness being the best that they can be.
Updated by School staff and Governors September 2021