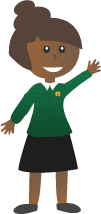 Year 6
Please click on the link below to see an overview of the learning which will take place during each term. Each topic has a specific subject which drives the learning forward. At the top of each map there is a purpose question. By the end of the topic, the children should be able to answer this purpose question. They should be able to use their new, as well as previously learnt knowledge and skills to build an answer.
Each topic has a class novel, which the teacher will read to the children daily. Each novel has a topic specific purpose related to the needs and learning of the children.
Please take some time to explore the different maps, to see the different opportunities we are giving the children through our topics.